Become an All In For Voting Teacher Ambassador!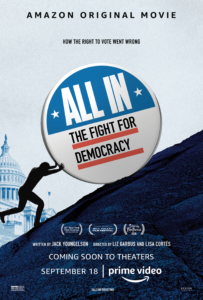 All In: The Fight for Democracy is an inspiring call to action that will forever change the way Americans understand and exercise their right to vote.
We are currently seeking middle and high school educators interested in participating as All In Teacher Ambassadors who will support the implementation of the Grow A Voter curriculum through the end of 2020.
To Apply: http://www.allinforvoting.com/
From now through the 2020 elections you'll receive:
An honorarium for your time, commitment, and work;

Professional development to incorporate the "Grow a Voter" curriculum in middle and high school U.S. History, Civics, and Journalism/Media Literacy classes, libraries and communities;

The support from a community of educators invested in civics and media literacy to prepare the next generation of voters.
Qualifications include:
Experience in facilitating teacher professional development and/or the willingness to jump in and learn;

Willingness to share the film and the curriculum with your professional network;

Share any documentation of student learning such as writing, completed assignments, or other demonstrations of learning;

Up to two hours/week for 8 weeks (mid-September- mid-November) to strategize and do outreach within your school, district, community and state;

Attend two scheduled webinars, weekly zoom meetings, and ongoing email correspondence; 

Flexibility, humor, strong communication skills, passion for civic engagement, and willingness to collaborate with a range of colleagues from other parts of the country.