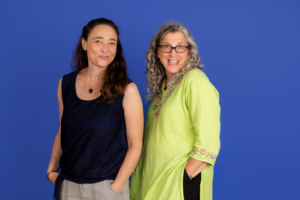 Blueshift Education believes social impact media has the power to reach audiences and spark energy for deep and lasting social change.
Launched in 2015, we work with media makers to develop Impact Education resources – curriculum, guides, innovative platforms and tools, strategy and professional training content – to fulfill impact campaign goals and increase critical media literacy.
At Blueshift we are passionate about the intersections between education, social change, and storytelling. We are guided by our vision and commitment to deepen understanding of pressing social issues, amplify diverse voices, and create pathways to connect ideas, people and resources.
As a white led women-owned business we approach our work with the knowledge that our cultural identities and our white privilege frame how we experience the world and do our work as educational content creators. We remain committed to exploring and breaking down our own personal assumptions and biases and working in solidarity with others to dismantle the unjust institutions and systems that perpetuate racism while also working towards new models of equity and justice for all. We understand that doing so requires reflection, conversation, resources, intellectual inquiry, and action and believe it is important to publicly communicate to our partners across the documentary and creative media field that we will remain steadfast as we engage in this ongoing work. 
Blueshift Education, Inc. is located in Denver, CO.
The word 'Blueshift' describes how light wavelengths change as objects in space move closer, just as audience perspectives will change with the insight and context they gain from impact education materials.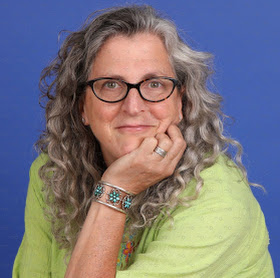 I have joyfully worked in education for over 30 years as a History and Civics teacher in middle and high school before working for the international education non-profit Facing History and Ourselves as a regional director, curriculum writer, and facilitator of professional development and community conversations. As Co-Founder of Blueshift Education in 2015, I joined together my commitment and experience in education with my passion for social/racial/economic justice in order to increase the capacity for change by leveraging impact media across diverse platforms.
Outside of Blueshift I travel whenever possible, spending time playing in Colorado's mountains skiing, climbing, and camping with my family, gardening and recently learning botanical drawing. I received a degree in Politics from Mount Holyoke College, a Master's Degree in Education/Curriculum and Design from the University of Colorado, a diploma in Jewish Studies from the Oxford Center for Hebrew and Jewish Studies, and completed my PhD coursework in Cultural Studies and History from Claremont Graduate School.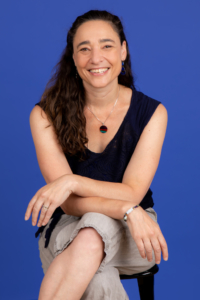 I love my work at Blueshift because I believe in the power of great media to spark the kind of connection, empathy, curiosity, dialogue and action that can lead to real social change.
My background is in public health, I have a Masters in Public Health from UC Berkeley and spent more than a decade doing domestic and international research in HIV prevention at the San Francisco Department of Public Health, facilitating communication and collaboration between government and pharmaceutical researchers and the marginalized communities who might benefit from the research, but who often have very valid reasons to mistrust the researchers.
Later, I applied some of those same communication and facilitation strategies as the Co-Executive Director of Building Bridges, where we equipped young leaders with the skills to build authentic relationships across social, economic, and racial divides – hosting summer camp and after-school programming in Israel and Palestine, and in Denver.
I also love: playing Catan with my kids, the occasional reality TV wallow (Married at First Sight, anyone?), breathing mountain air, and Philz coffee.