Athlete A Offers a New Perspective
Athlete A, streaming now on Netflix, spotlights the sexual abuse of hundreds of young athletes by USA Gymnastics team doctor Larry Nassar, and shines an even brighter light on the team of individuals working to hold USA Gymnastics and Lassar Nassar accountable, a team that included hundreds of people – the survivors, the journalists at the Indianapolis Star, and the legal team that led the investigation and successful prosecution.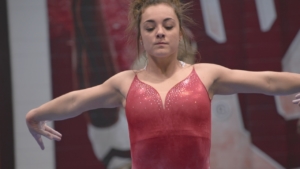 I (Jen) was excited to work on this film because of my history as a competitive gymnast. I was never very good but I loved it and in the first few minutes of the film you'll learn why –  it made me feel like I could fly. I wanted the film to teach me about the heroic survivors and journalists who exposed a monster and the bad actors who enabled him. I did learn all of that from it but, as great films do, Athlete A also gave me fresh eyes as I watch the Olympics or any elite sport – a new lens on something I thought I understood.
At its heart, Athlete A raises questions about the role of sports and competition in our lives. It asks us to reflect deeply on the cost of a culture that values perfection as the measure of success, even (or especially) when that comes at great personal cost. There must be a way to keep the best parts of sports – healthy competition, discipline, and teamwork – while holding the safety and well-being of the athletes as our highest priority. 
Fran and I (Team Blueshift) worked closely with the film team, and with generous time and insight from several of the gymnasts and journalists in the film, we created a community discussion guide. Understanding that in-person screening events may not happen for a while, we built a brand new online discussion guide, including background information, discussion prompts, and steps for taking action, meant to be used at home, or on-line, sharing screens with a friend or a group.
It seems to be working – more than 20,000 people have visited since the premier last week! Check it out at AthleteAFilm.com, and let us know what you see.
Watch for classroom lessons later this summer.